QR codes have been around for a long time. It's only recently that their use has become so versatile.
QR code stands for Quick Response code and it was developed in Japan in 1994 for use in the automobile industry. Their original role was vehicle tracking and high-speed component scanning. But since the 90s, they have gone way further than that.

The social distancing rules of Covid-19 pandemic made QR codes more popular than ever. Almost every industry is using them for a better and quicker service. Here are a few places where you can find them:
Restaurant menus for placing orders
Clothing labels for checking clothing material and how eco friendly your new outfit is.
Product packages for checking food ingredients.
Bus stops to view bus timetables.
Billboards
Magazines
Web pages
Apps
Dynamic VCards
Nature trails
Museums
Tickets
Of course the list doesn't end there. QR codes are pretty much everywhere these days.
You can also generate your own when you want to send information.


The anatomy of a QR code
(for the nerds)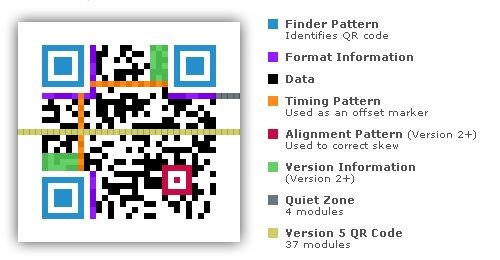 (Adapted from Google Images)
How QR codes work
QR codes are made up of data modules which are readable by mobile phones and scanners.

They are the black and white dots which make them distinctive. Each of those modules represents a pack of data or a function. They consist of:
Position markers
For the scanner to identify the QR code edges.
Timing patterns
For identifying its rows and columns.
Version Number
For recognising the version number of the code (bet you guessed that one!)
Format
For reading the type of content which could be a piece of text or a URL. 
Alignment Marker
For the scanner or phone to identify the reference point for alignment. 
Most people recognise a QR code when they see one. You may have heard that Coinbase took advantage of this.

They created an ad for the 2022 Super Bowl which was simply a QR code bouncing around the screen. In advertising, words are good but visuals are better and a video of a floating QR code on a screen was enough to grab people's attention. In fact, it was so popular that the Coinbase app crashed due to the massive influx of responses.
Lots of other companies favour the use of QR codes because they are convenient for their customers. They are also advantageous from a technical standpoint. This is because they are:
Quick and error free
No need for a user to type or mistype anything, just scan and wait for a few seconds.
Safer
With their card transaction capabilities, QR codes can be used for cardless cash ATMs where you can withdraw money using just a QR code in your bank app.
Actionable, interactive & informative

Who has the time to read a bulk of information when looking for something specific? Scan that QR code with your smartphone and you'll be directed to the relevant site, video, image or PDF to find what you need.
By adding a QR code you can get your audience to interact with you and respond.
QR codes can contain all sorts of information:


URLS
Social Media links
Coupons
vCard Plus (digital business cards)
Business Pages
Feedback forms
Multimedia files (e.g images, videos, PDFs, MP3s)
Bitcoin (for sending and receiving cryptocurrencies)
Wifi (for automatic Wifi connection without manually entering a password)
How do you scan QR codes on a smartphone?
Firstly, your smartphone needs to have a built in QR reader. Most modern mobile phones do so if you own one, just use your camera to scan it. That's it!
The camera on my phone won't scan QR codes
For the Android or iPhone models which don't have built in QR readers, you'll need to download a QR code app to do the job.

Before you rush to find an app, go into your phone's settings to check if there is an option to enable QR code scanning. If not, launch Playstore for Android, or Appstore for iPhones, and hunt for one.

Some good (and free) apps that work for both Android and iOS are:
Kaspersky QR Code Reader and Scanner
NeoReader QR Code & Barcode Scanner
Bar - Code Reader
QR Code Reader by Scan
QR Codes aren't just for phones, you can also scan them on your tablet. Whether it's an Apple iPad Air, iPad Mini, iPad Pro or a Samsung tablet that you have, QR codes can be scanned on any gadget with a camera. If your gadget does not have an integrated scan reader, you can download a compatible one online.   
Keep your smartphone screen scratch free while you are scanning those QR codes out there. Check out our gadget insurance cover to see how to keep your phone safe and sound.