A warranty is the manufacturer's guarantee that should a malfunction or defect develop after you've bought the phone, they will repair it or even replace it for you free of charge as long as it meets their criteria. Pretty much every phone, laptop, tablet or other gadget maker will offer a manufacturer's warranty at the time of purchase.
As good as this sounds, it may be worth considering some additional protection for your valued device, as relying on warranties to protect you against harm or any potential faults can leave you without the cover you were hoping for. Each manufacturer warranty contains different conditions and limitations.

In this article, we talk about some general common rules that are found in the vast majority of warranties offered by manufacturers, and we also give you advice on what precautions you would need to take in order to avoid having a warranty claim rejected.
What does the warranty cover?
Any damage or fault relating to the craftsmanship of the phone or device that the manufacturer would be considered responsible for such as:  
Cosmetic flaws
Damage due to misuse
Liquid damage
Any damage that may have occurred after the phone has been tampered with or if it has undergone any third-party repairs
Loss or theft
Counterfeit goods
The claims process may vary depending on the manufacturer. Your warranty receipt should contain specific instructions on how you can submit a claim.
How can I claim on my warranty?
The first thing you'd need to have in order to claim on your warranty is the receipt from the retailer or the manufacturer.

The receipt will likely include the warranty information, although in some cases, the warranty may come in a separate document that would have been given to you at the time of purchase.
In other cases, you may have been asked to complete a registration form and submit it to the manufacturer to activate your warranty. If this has not been done at the time you purchased the gadget, the warranty may no longer be valid.
Once you have the receipt, there are a few more things that you need in order to check your eligibility to claim:
How long the warranty lasts and whether you are still within the warranty period.
What the warranty covers you for.
Whether you are entitled to a refund, repair or a replacement.
How long do warranties usually last?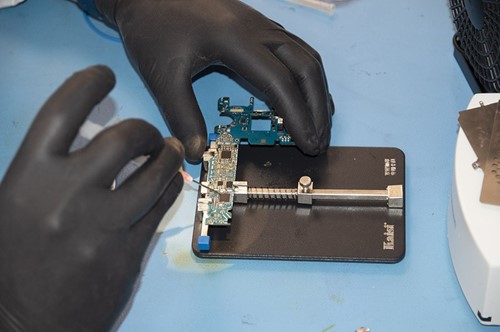 Long warranties show confidence in the manufacturer's products, but typically a manufacturer warranty on most gadgets will last for 12 months. Some of them can go up to 2 years but this depends on the manufacturer.

The duration can vary depending on the part of the phone that you would like to claim on.

For example, you may find that the warranty limit for a battery fault is only 6 months for a Huawei smartphone. Whereas for any other Huawei part, such as the screen or the charging port, may be 24 months.*

You would need to check with the manufacturer for any warranty specifics so that you are aware of any time limits that might apply for each individual part.
If you have an Apple iPhone for example, you can visit Apple's handy platform on which you can enter your IMEI number and check your own warranty status.
The warranty is there to cover you for any manufacturing problems.
Remember, it would still be your responsibility to take good care of all your gadgets to avoid the need of having to claim.
What happens after I make a claim on my warranty?
Once the claim has been made, the manufacturer may get in touch with you for more information such as:
An explanation of the problem
A copy of the warranty receipt
Any potential incident details that may have led to the mechanical breakdown.
Whether you have tried any troubleshooting solutions as functionality issues can sometimes be easily resolved.
Once you receive confirmation that your claim can be assessed, you will be asked to send the phone to the manufacturer for repair/replacement. It will then undergo checks to determine whether the cause of damage or malfunction is a result of misuse or a workmanship issue.

If it's a manufacturing fault, the repair/replacement process will start. Check with the manufacturer about their timescales as they can differ depending on the type of problem if the phone is being repaired, or their stock availability if it's being replaced.
Can I make multiple claims on a warranty?
It would depend on the terms and conditions of each manufacturer. If you encounter issues after the phone/gadget has been repaired or replaced, or if you believe that the device was not properly repaired, you could in some cases use the remainder of your warranty to cover you for any further mechanical faults.
For example, if you bought the new iPhone 13. It would have come with a 12-month warranty. If you claimed in the 5th month of using it due to issues with the touch screen, and Apple sent you a replacement device, the warranty for your iPhone would then be the remaining 7 months. If you claimed in the 12th month however, Apple would give you extra 90 days of warranty for your repaired/replacement phone*.
It's still important to contact the manufacturer directly for more specific information on the type of gadget and the part which you are claiming on.
What is the difference between my warranty and insurance?
Warranties:
The warranty will only last for a set time period with most manufacturers, generally between 12 and 24 months. Its main purpose is to cover you for any manufacturing problems within the set timescales.

If a gadget shows early signs of malfunctions, you should turn to your warranty as you may be able to claim on it without extra cost. At the repair stage, manufacturers may use parts from a refurbished stock to complete the repair. Alternatively, if the gadget is deemed beyond economical repair, it will be replaced altogether. The replacement device may be new or refurbished.
Lastly, warranties cannot cover you for theft or loss.
Phone/Gadget Insurance:
Phone/Gadget insurance offers you more flexibility as you can receive cover for much longer, even beyond the early life of the gadget. Additionally, you can be covered for theft and loss, something which warranties do not offer.

Unlike warranties which have an expiry date, insurance policies can remain active for as long as you wish. Some insurers may put a limit on the number of claims you can make within a period of time, and there is often an applicable excess fee for the repair/replacement of the gadget.

Our repairs are carried out using original or manufacturer quality parts from either new or refurbished stock. Replacement devices may be either new or refurbished. If the original model is out of stock, a similar model will be sent instead.
*Correct at time of publishing Nov 2021


Your manufacturer warranty will sooner or later expire. Check out our mobile phone insurance to keep your phone protected at all times.