Providing a safe online environment for your child can be a tricky process due to the overwhelming amount of information that your child can have access to when surfing online.
Below we have listed some of the best parental control Android and Apple mobile phone apps that you can use to monitor your children's online browsing and activity, according to Tom's Guide and PC Mag.
Although the following apps that we have looked at do a good job at filtering websites and application features, relying on them completely is not a sufficient solution as there may still be some unwanted content finding its way through to your child's screen.
Some of the main features you would want a good parental control app to have are:
Web Content Filtering
App Blocking
Screentime Management
Location Tracking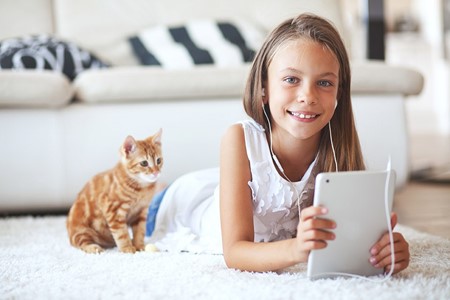 We have collected a list of some the most highly recommended parental control apps that contain the above features:
Net Nanny Parental Control
$54.99/£40.37 per year
Compatible with both Android and iOS
Excellent web filtering technology
User friendly design
Features:
Track your child's location
Display the location history
Set screentime allowances
On iOS you can block a larger number of apps on your child's phone
On Android, all apps can be blocked
Set content screening filter within social media apps such as Instagram, Youtube and TikTok
Bark
Compatible with both Android and iOS
Offers two price plans: Bark Premium: $14/month or $99/year
7 day free trial
Features:
Monitor more than 30 apps, including Youtube, email, texts and social platforms.
Receive alerts for cyberbullying, harassment, suicide related content and more.
Location Tracking
Manage Screentime
Bark Junior: $5/month or $49/year
More suitable for younger children (pre-teens) for basic monitoring
Manage screentime
Website Filtering
Location Tracking
Norton Family
30-day trial / Norton Family Premier £29.99 per year
Compatible with both Android and iOS (9 and up) but works best with Android phones and Windows PCs/laptops
The web interface is more user friendly than the mobile app version
Features:
Track your child's location
Set different house rules and activities for each child
Manage existing apps on Android phones but not on iOS
View a complete list of the apps installed on your child's phone and tick the ones you want to block
Filter and monitor web usage
Limit your child to using the Norton Browser only which has even stronger filtering capabilities
The house rules for web filtering include four sections: Supervision Level (High, Moderate and Low), Blocked Categories, Restricted Websites & Allowed Websites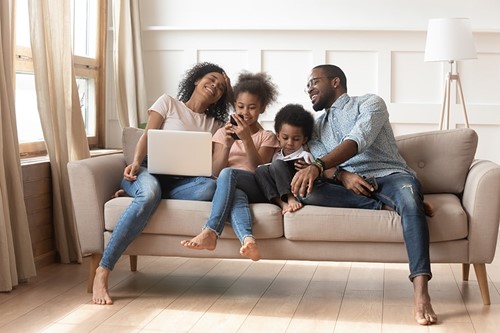 Kaspersky Safe Kids
7-day free trial / £14.99 per year (website is currently offering 10% discount)
Free version available as well but with limited features
Compatible with both Android and iOS as well as Macs and PCs
Features: 
Online Content Filter including Youtube Safe Search and Search History
Screentime management and Scheduling
GPS Child Location (also allows you to set a safe area for your child to stay in)
Battery Tracker
Real – Time Alerts for when your children try to access unwanted sites or apps, leave safe area and more.
With the free version, you can only use the app to:

Filter Online Content
Block your kids' Youtube search requests if they are deemed inappropriate
Control app usage
Manage Screentime
Qustodio
Compatible with both Android and iOS (11 or higher), Macs, PCs, Chromebooks and Amazon Kindle
Three price plans with a 30-day money back guarantee if you are dissatisfied:

Small (5 devices for £39.95/year)
Medium (10 devices for £64.95/year)
Large (15 devices for £92.95/year)
Works best with Android phones
Features: 
Can monitor Website Content even in Incognito mode (Social monitoring is only available for Facebook activity) – This feature works best on iOS
Screentime Management based on child age group for individual apps and device
Location Tracking for all children at the same time (including alerts for when children arrive/leave saved locations)
Track calls and texts (allows you to also read your child's messages and block contact with specific numbers – limited to Android devices
Geofencing option
Panic Button available for when your children leave home (Android only)
Family Time 
Compatible on both Android and iOS
More features available on Android than on iOS.
Price plans (based on the number of devices added):

1 device: $27/year
2 devices: $35/year
3 devices: $45/year
5 devices: $69/year
Features: 
Monitors calls, text messages, location and contacts
Strong Geofencing options
Internet Browsing Filters and Internet Schedule (Bedtime and Homework time controls)
App Blocker and Daily Limit by app usage (can produce an app usage report)
Family Pause
Limit Screen Time
SOS and Pick Me Up Alerts
OurPact
Compatible with both Android and iOS (with some restrictions)
Easy navigation and appealing design
Three price plans:

FREE (controls only one device)
Premium: $6.99/month (for up to 20 devices and no restrictions on the number of manual blocks)
Premium Plus: $9.99 (no limitations)
Features: 
One of the few apps that can block an iOS app entirely.
Manual Blocks for specific periods of time. Can be used for texting apps as well.
It can fully block messaging apps on Android and partially on iOS.
Children can manage their daily allowance through scheduling.
Location tracking with Family Locator
Additional screentime can be added as a reward with Manual Grants.
Setting app rules for different apps (e.g gaming VS educational apps).
Web Filter to block adult content websites.
Installing Parental Control Apps on your Phone: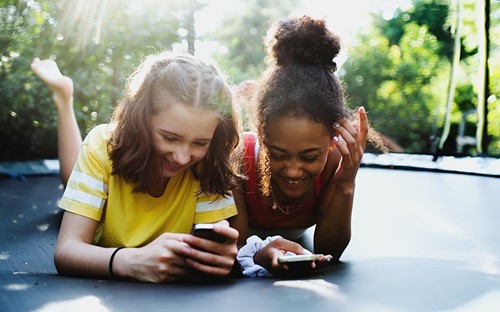 You've picked the app that suits you best and now you want to set it up on your phone so that it's ready to start monitoring. Each app would have different installing requirements however the set-up process is similar across all apps for Android and iOS.

After choosing the preferred app, you would need to install it on both your and your child's device so that you can link them. After linking them, you can set the desired monitoring filters and settings.

Both Androids and iPhones have built-in parental control settings without installing an external app. If you would like to enable those, you can follow the instructions below:
Android:
Open the Google Play app.
At the top right, tap the profile icon.
Tap Settings
Go to Family
Click on Parental controls
Turn on Parental control.
To protect parental controls, create a PIN that your child cannot guess
Select the type of content you want to filter
Choose how to filter or restrict access.
iOS:
Launch Settings
Tap ScreenTime
Tap Turn On Screen Time
Tap Content & Privacy Restrictions
Enter a four-digit passcode
Re-enter the four-digit passcode
Sources:
• Very Well Family - Best Parental Control Apps
• Parental Control Now - Best Free Parental Control Apps 
• Apple - Parental Control Apps 
• Google - Parental Control on Android 
• Google - Parental Control Set up on Google Play
• Imore - How to use Parental Control Apps